CEET STUDY MATERIALS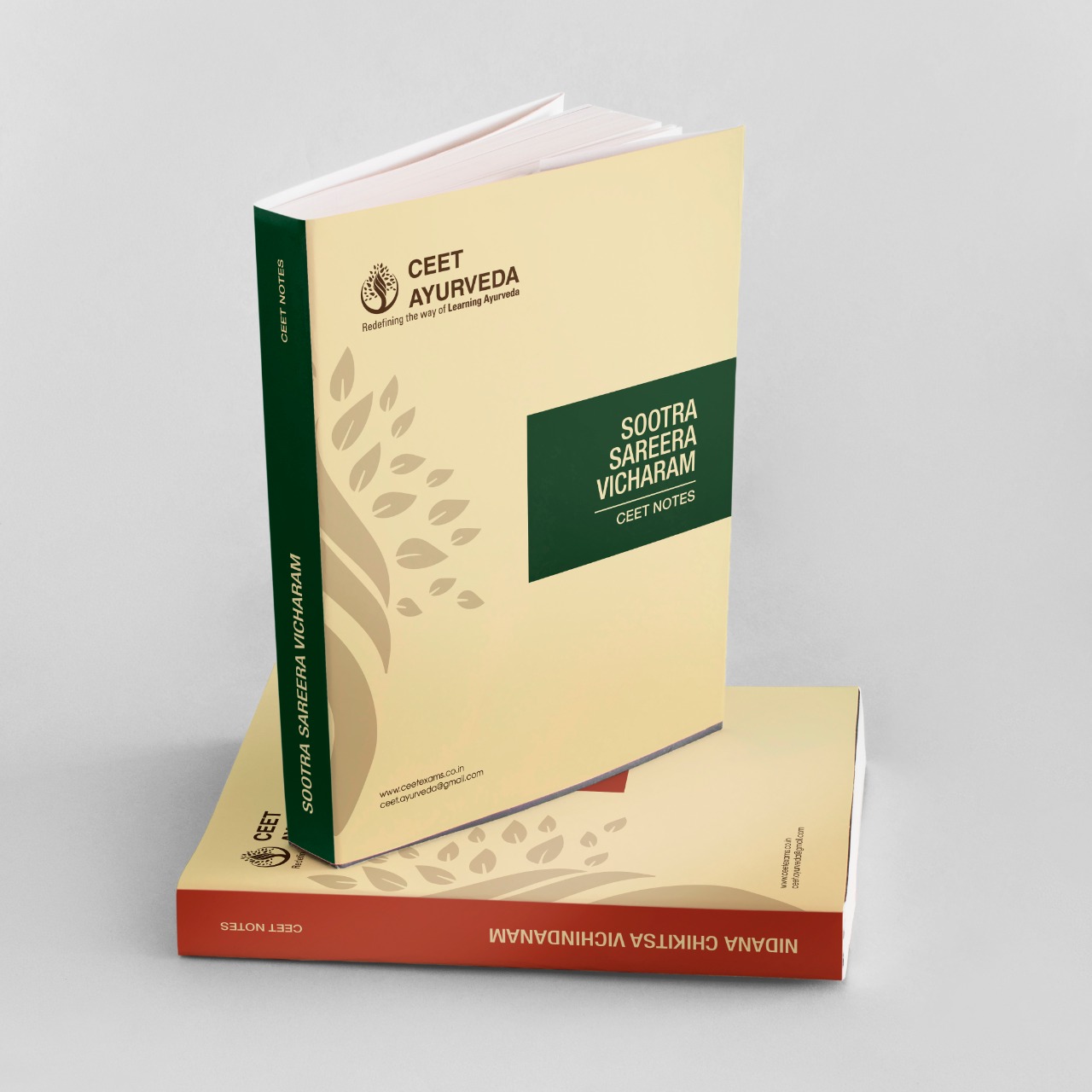 CEET Sutra Sarira Vicharam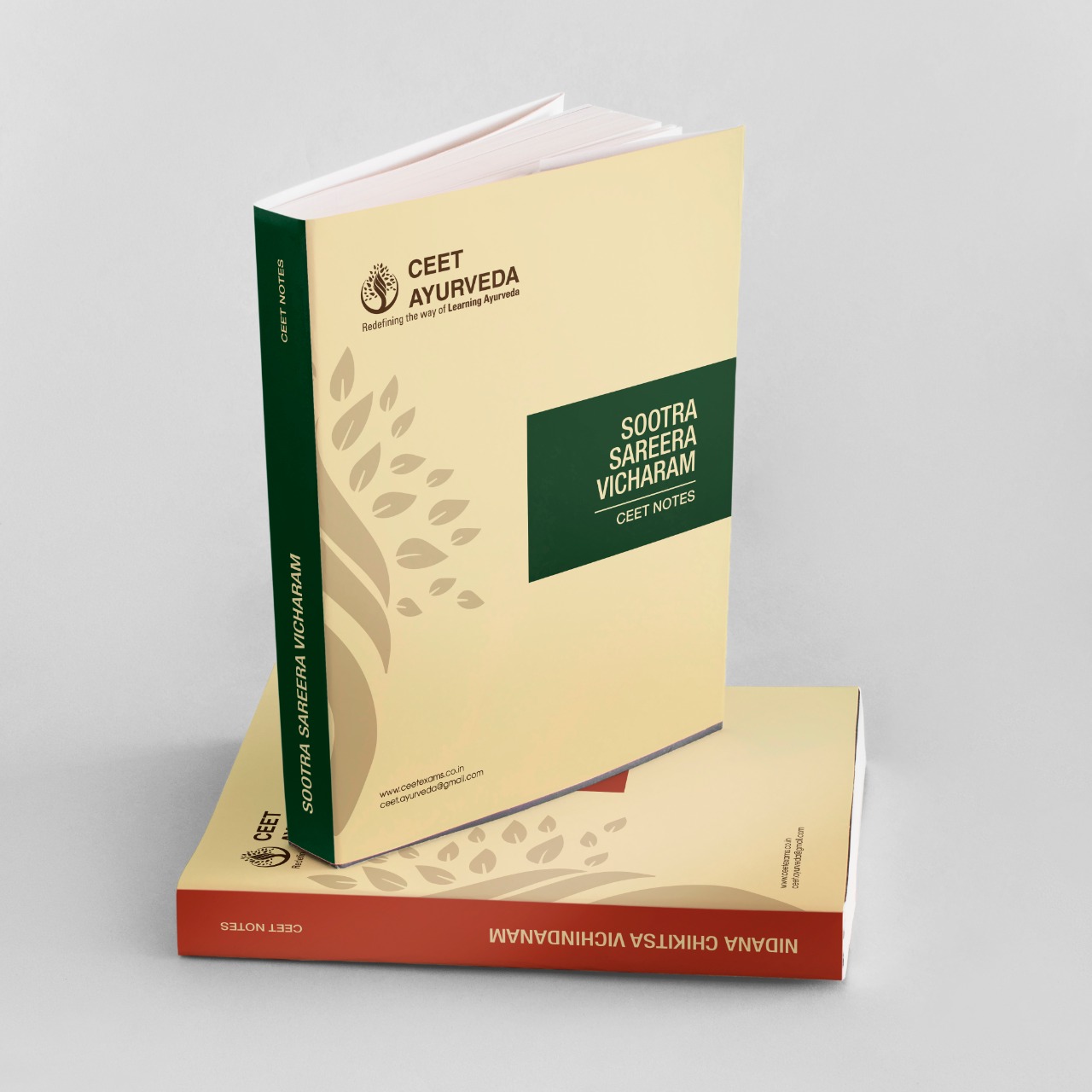 This book is a compilation of Sutra and Sarira sthanas of Brihat trayees .In addition to this important points from other samhitas are also added wherever needed. Getting all the important points of Sutra & Shareera shthanas of Charaka Susrutha and Astanga hridaya in one single book is a dream come true for every entrance aspirant. It saves a lot of time and energy as most of the portions are arranged in table format and easy to grasp points.221 pages are contributed to Sutra sthana compilation and 61 pages for Sarira sthana. Covering this book can ensure a halfway done for your entrance text. It is worth your time and definitely contributes in increasing your confidence.
CEET Nidana chikitsa vichinthanam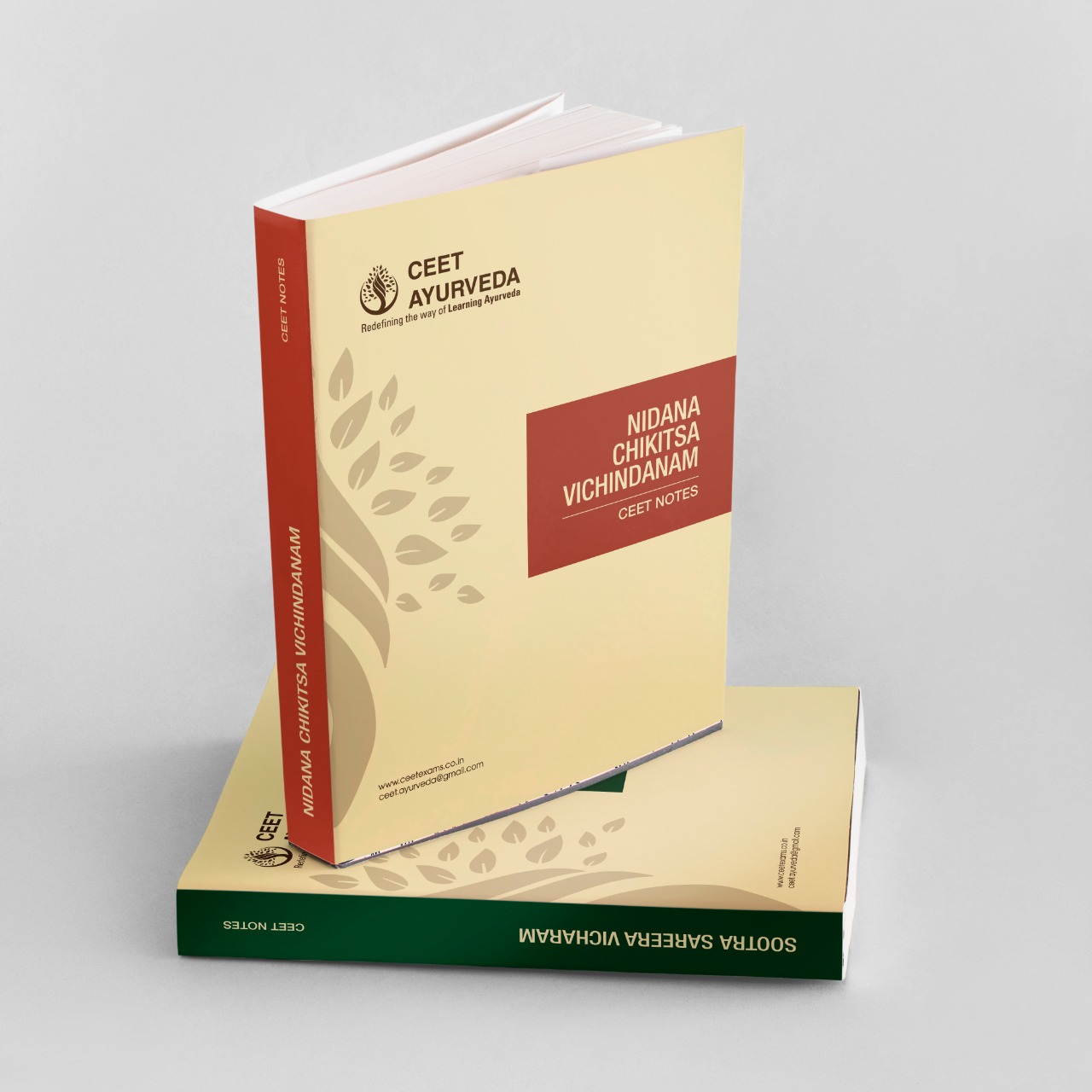 Nidana and Chikitsa sthana forms the major part of all the Brihat thrayees.Reading these sthanas and understanding the differences in treatment as well as noting all important points from this huge portion is a herculian task for any AIAPGET aspirant.Usually students confine their studies to guides while coming to nidana and chikitsa portion as it consumes a lot of time .But the preparation remains halfway leaving this important area . The ceet nidana chikitsa vichinthanam is the one and only text which caters this need of student.
Charaka nidana comprising 8 chapters ,Susrutha nidana 16 chapters, ashtanga nidana 16 chapters and all the chapters of Madava Nidana are covered and concised to capsule form.
Along with this 30 chapters of Charaka chikitsasthanam,46 chapters of Susrutha chikitsasthanam and 22 chapters of ashtanga Hridaya are amalgamated in this volume.
First 60 pages of the book is contributed for nidana portion.
Notes on Rasayana and vajeekarana are also elaborated .The usefulness of this text will not confine to your entrance preparation but it is an asset for your journey forward .
CEET volume 1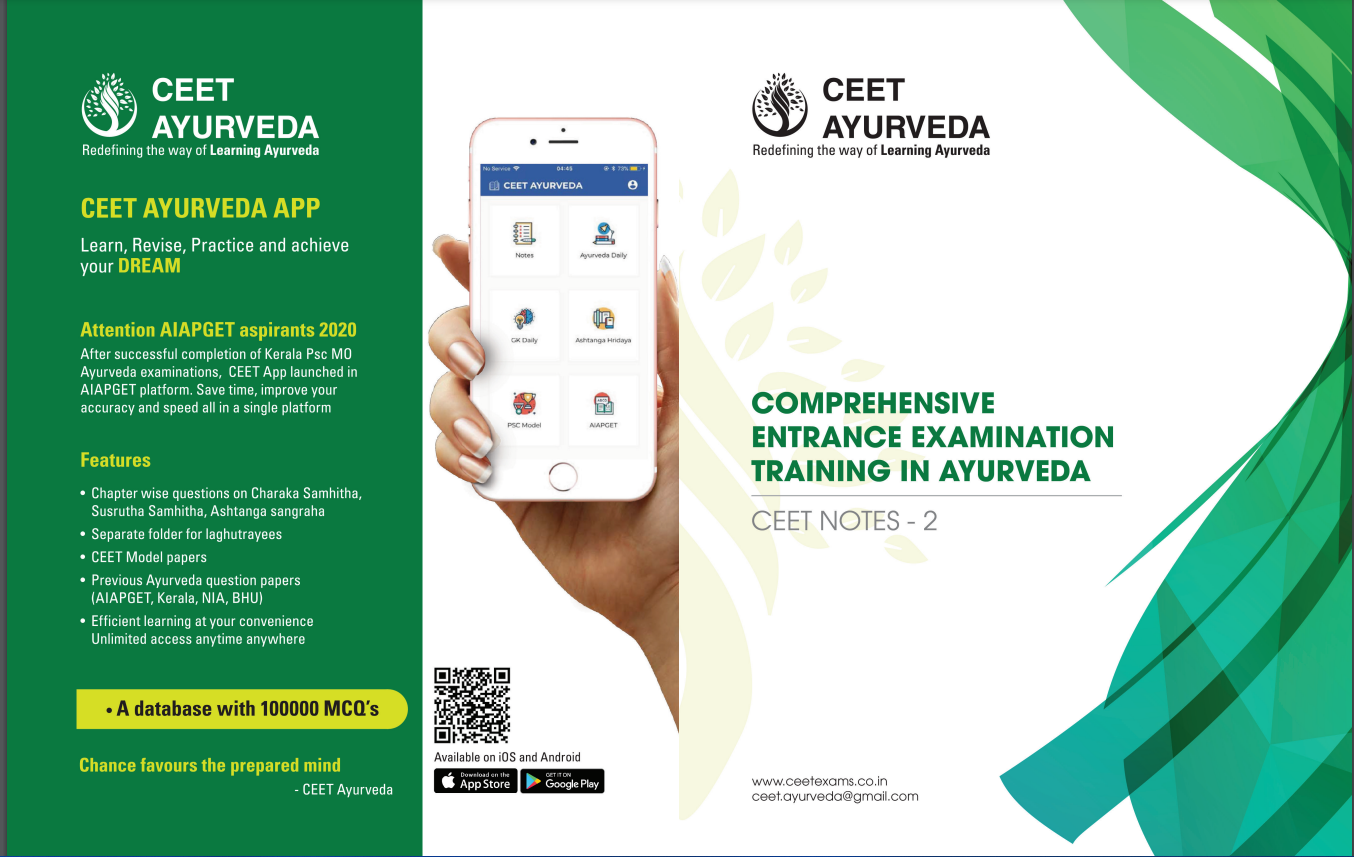 The first volume is a compilation of notes, coherently divided into chapters, covering all the three sutras and three sarira's ie Sutra & Sarira sthanas of Charaka ,Susrutha and Ashtanga Hridaya.
Every chapter is concised into capsule form covering all main points.
This volume covers a major topic of all entrance exams as most of the basics are covered here.
The herculian task of covering all the three Sutra & Sarira is as easy with this handy note.
The font and allignment is easy to read through which makes it way better for repeated revision.
Without missing a single point every chapter is concised which serves both as a detailed and quick revision guide.
Contents:
Charaka Sutra -30 chapters
Susrutha Sutrasthana -46 chapters
Ashtanga Hridaya Sutrasthana-30 chapters
Charaka sareera-8 chapters
Susrutha Sareera-10 chapters
Ashtanga Hridaya Sareera-6 chapters.
Thus in total all important points of this 130 chapters are concised to 237 pages,this covers the core subjects of AIAPGET.
CEET Volume 2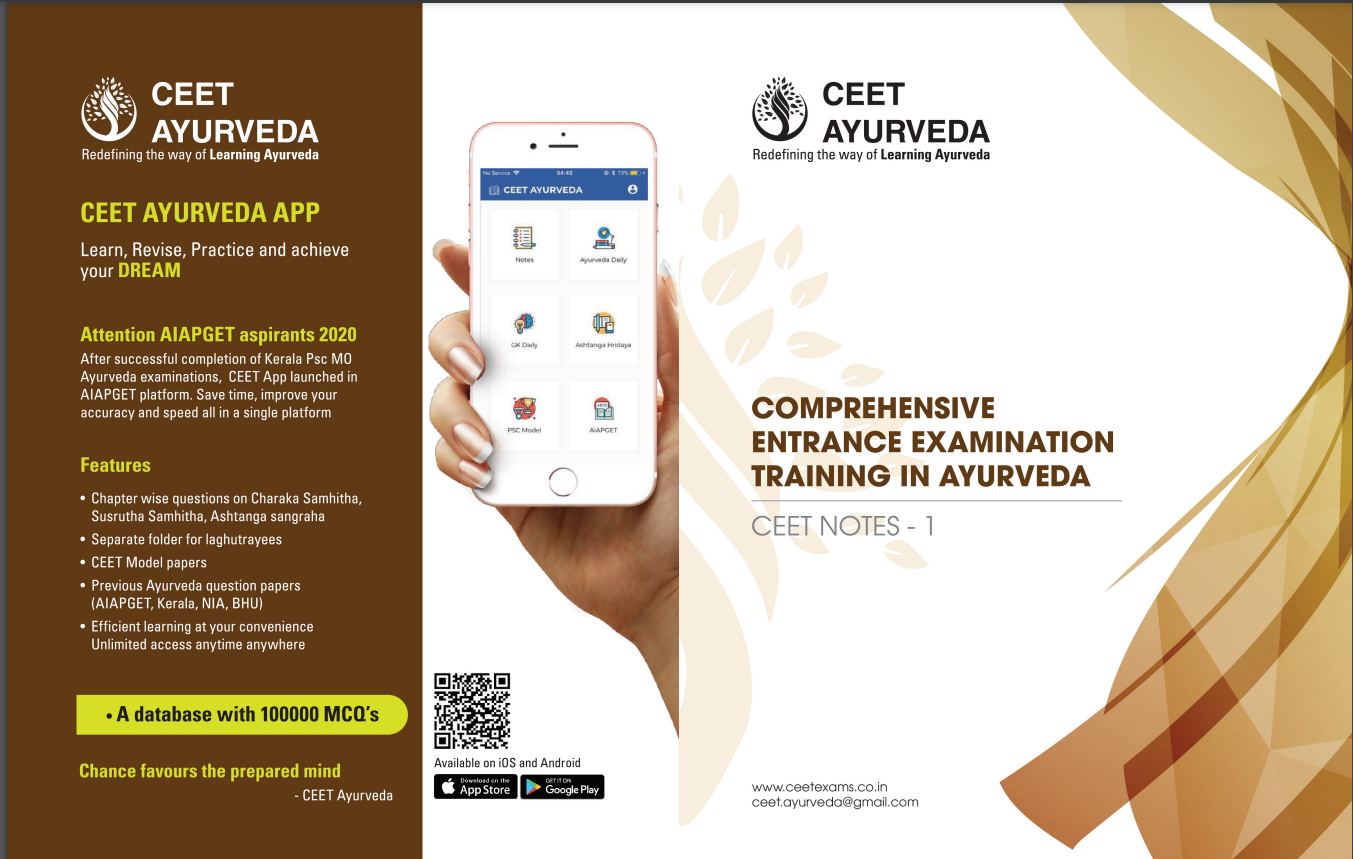 This compilation volume includes the major subjects of a BAMS curriculum.
This brilliant work begins with the subject Agada tantra which eloborately explains 35th to 38th chapter of Ashtanga Hridaya and entire Kalpasthana of Susrutha Samhitha keeping an eye on AIAPGET exam.
Then the book moves with Dravya Guna Vijnana where the major Nighantus on the subject along with its authors name,chemical compounds of different plants along with their synonyms and brief action of drugs are explained.The heart of Rasa sastra including Mahatasa,Uparasa, Sadharana rasa,yantra,puta,kosti,sodhana are all very systematically explained.
Then the different Kalpanas mentioned in Bhaishajya kalpana including paribasha are explained
Understanding and learning Padartha Vijnana is an herculian task for any BAMS student or an AIAPGET aspirant.This big task is very much simplified in this work from CEET.
The points on Kaumarabrthya is shattered in all Samhithas of Ayurveda.They are collected together and compiled here which makes it easy to learn.
In the same way all the major chapters explaining Stree rogas and Prasuti tantra are all brought together,both compiled and compared which minimises many confusions.This book ends with including all the important points from modern Gyaenocology and Forensic medicine giving priority to the frequently asked areas in AIAPGET.
This inshort this great piece of work from CEET helps to understand,learn and quickly revise all the topics and is an ideal go to for any AIAPGET aspirants.
CEET Volume 3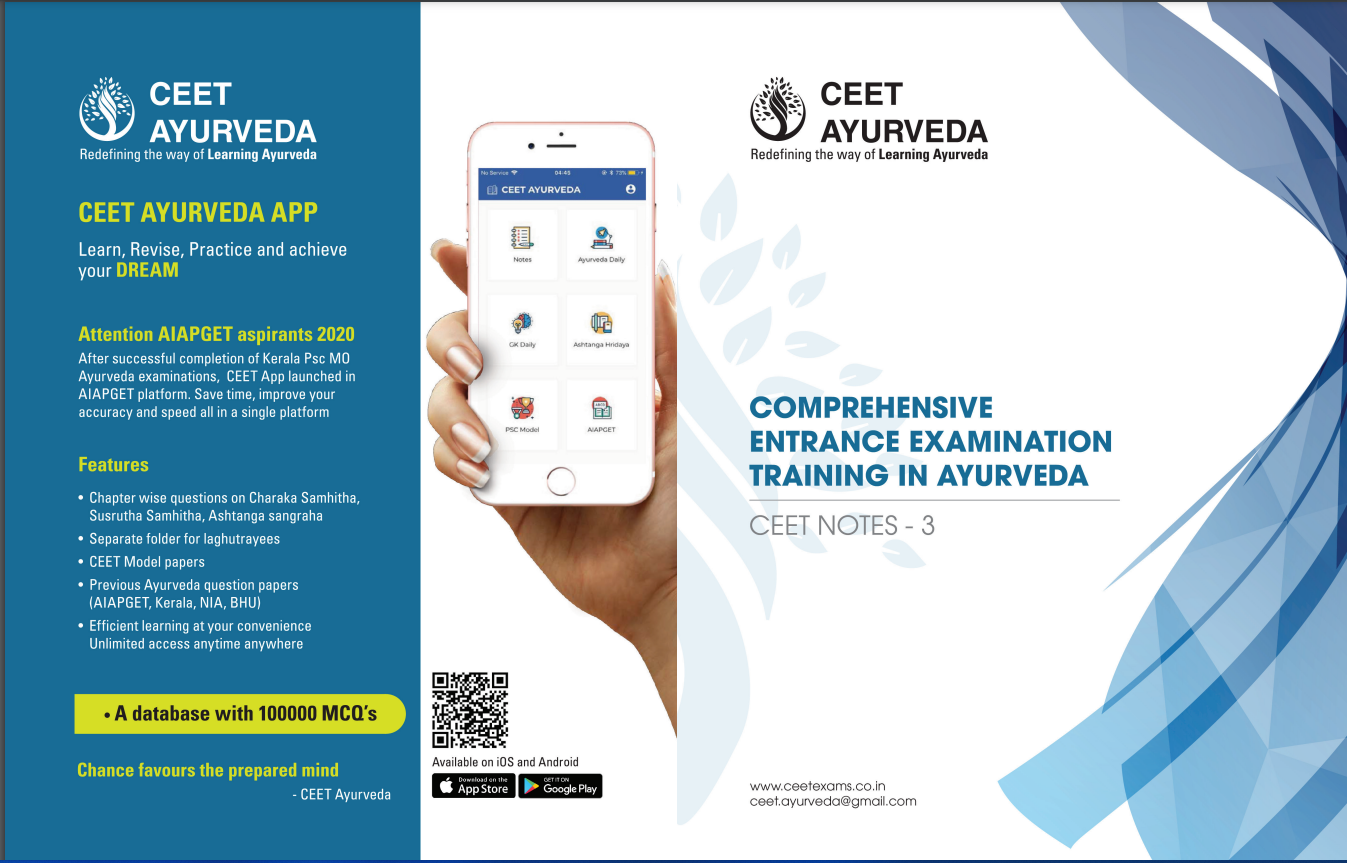 This volume with total 242 pages cover nidana and chikitsa sthanas of ashtanga Hridaya,Charaka ,Susrutha and Madava Nidana ,also Panchakarma,Shalya and Shalakya portions along with Rasayana Vajeekarana and Vimana ,Indriya sthanas of Charaka samhita
Chapter wise concised notes of each chapters of nidana and chikitsa sthanas are given which saves a lot of time as it is a very huge portion.
Short notes of 35 chapters of Madava Nidana is provided in this note.
Panchakarma notes include complete notes of kalpa(12chapters) and sidhi sthana (12 chapters)of Charaka samhita &
32 to 38 chapters of Susrutha chikitsasthanam.
All important diseases related to Shalyatantra along with its chikitsa ,kshudra rogas are mentioned under Shalyatantra .
Shalakyatantra notes cover points from Ashtanga Hridaya and Susrutha samhita and is in table format which makes it very easy to study.
Essential volume 1


A question bank which is one of its Kind
Working out the previous question papers is a part of preparation of any MCQ exams. Every student spents a lot on grabbing previous MCQ questions. This is an answer and end to your search for previous papers .All the questions from past exams in the field of ayurveda is sorted and subject wise arranged in this book. It contains thousands of questions with answers.
Readily readable and unlike any other MCQ textbooks the incorrect answers are very few as it is yearly corrected. Working out this book boost your confidence and helps in developing speed and not missing any previously asked question .

Essential volume 2


This volume is an asset for every AIAPGET aspirant,all the hidden points from Charaka , Susrutha and Ashtanga Hridaya is mentioned in this volume.All the efforts for extra reading from samhitas can be avoided with this volume. The key to success in competitive exams lies in the utilisation of time effectively & smartly.The hectic part of preparation lies in making notes.So it's always better to choose prepared notes which are precise and error free.

Chapter wise detailed notes of kasyapa samhita is included in this volume .Chapter wise notes make it easy for students to grasp the points quickly .As many questions of AIAPGET are asked from Kasyapa samhita in the recent years it has become an important area of study.
Additional Notes of chikitsa sthanas, prasuti and stree roga ,and dravya guna vijanana is also added.
Total pages 295
CEET PRE PSC STUDY MATERIALS
KPSC MO- SUBJECTS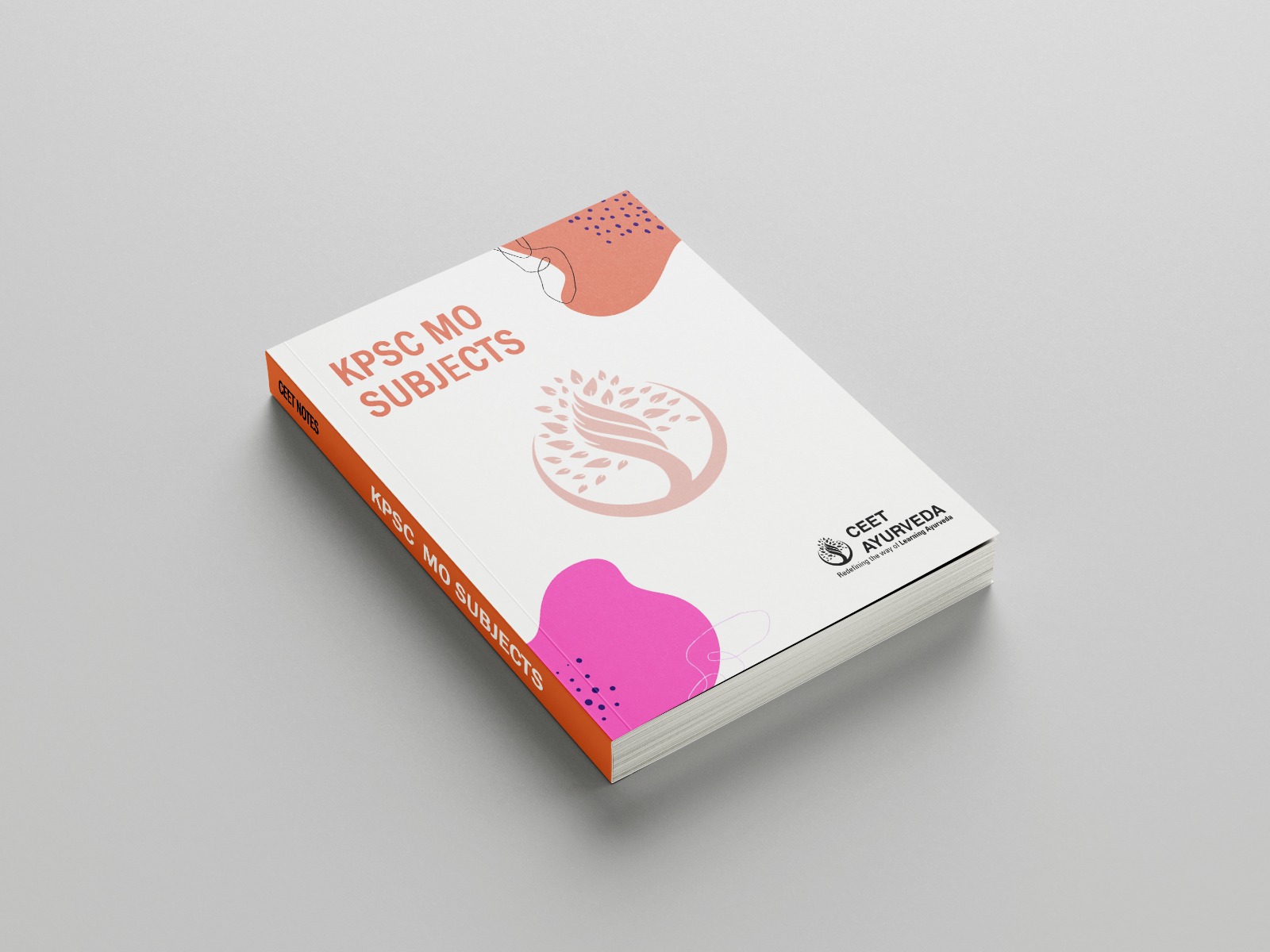 A single volume material consisting of all the major subjects concerned with KPSC
includes core points from
AGADA TANTRA
BHAISHAJYA KALPANA
RASA SASTRA
PANCHAKARMA
SHALYA
SHALAKYA
RASAYANA VAJEEKARANA
NIDANA
CHIKITSA
DRAVYAGUNA VIGNJANA
PADRTHA VIGNJANA
PRASUTI TANTRA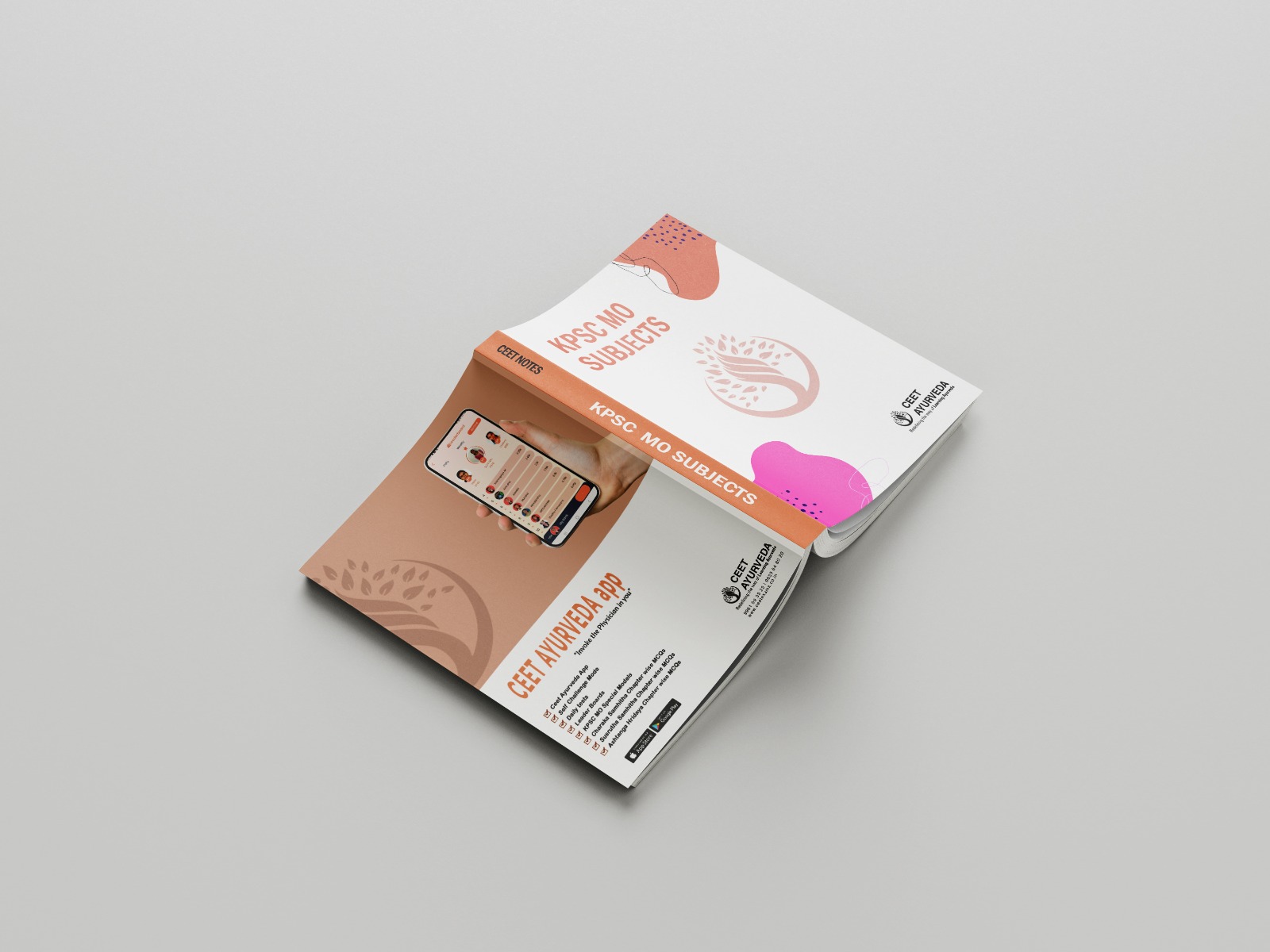 KPSC MO- ASHTANGA HRIDAYA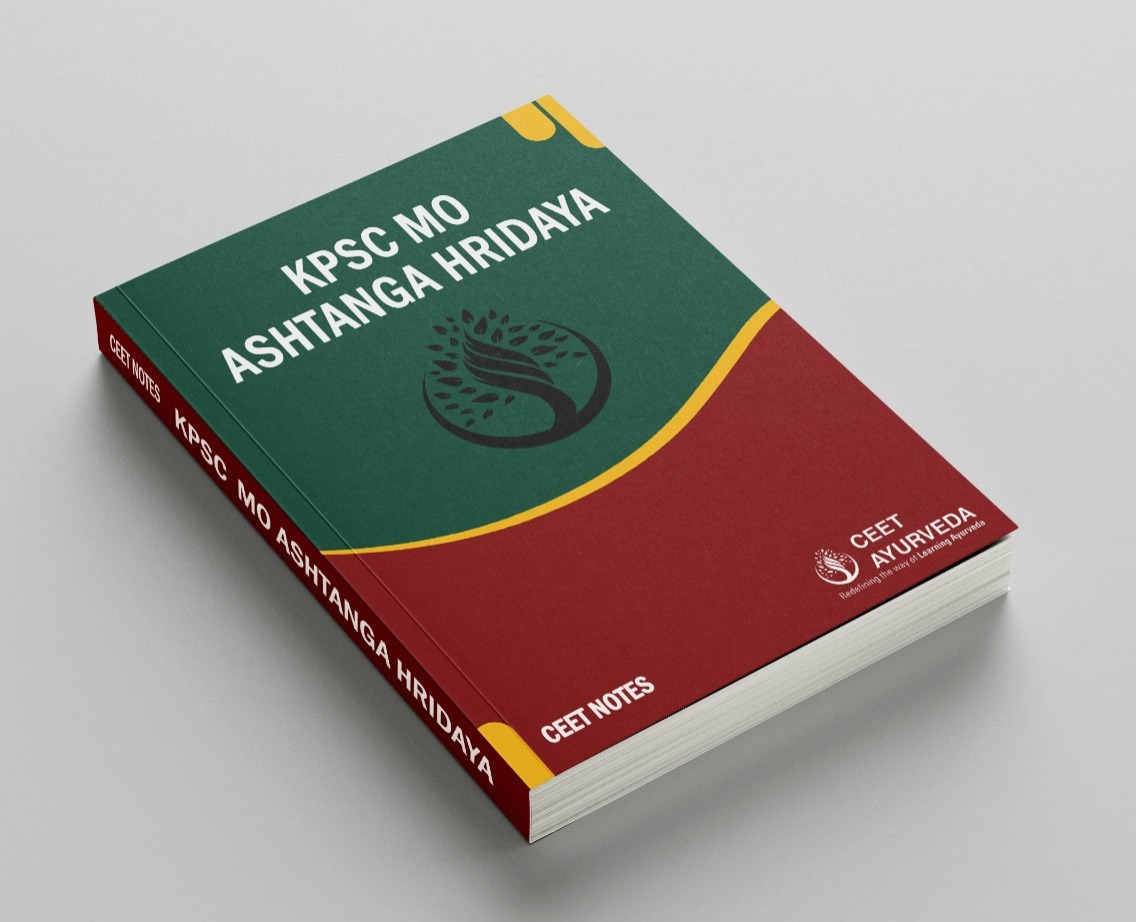 A single volume material consisting of detailed analysis of all the sthanas of Ashtanga Hridaya
chapter wise analysis of contents
Key entrance points from all the chapters and sthanas of Ashtanga Hridaya