CEET AIAPGET 2018 Results - At CEET, we guarantee success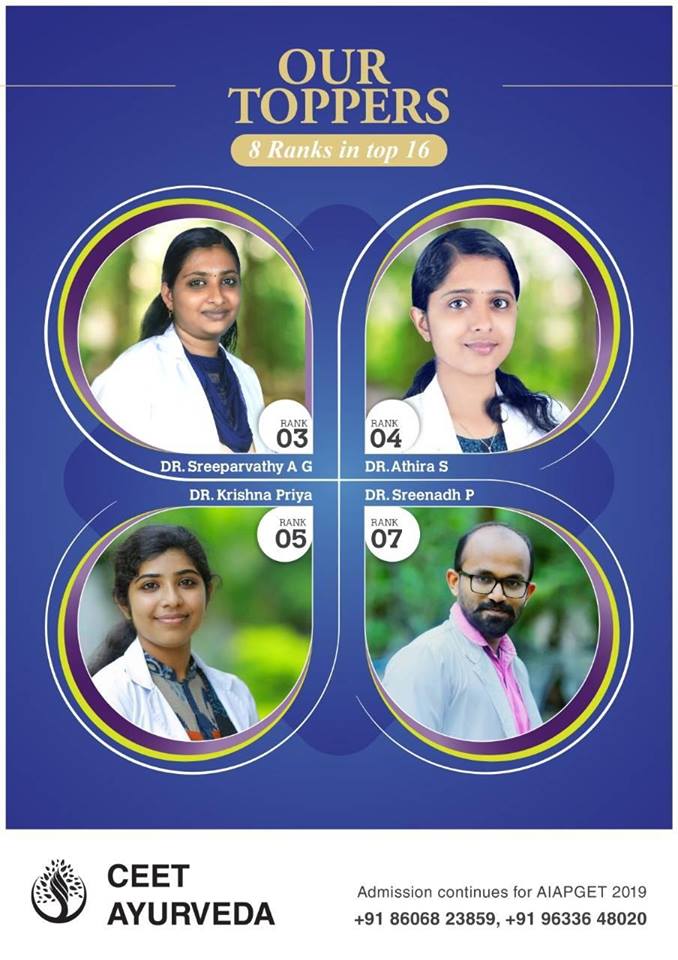 ?At CEET, Students LEARN Remove the L and Starts to EARN?
Announcing our 2018 AIAPGET Govt. Stipendary seat Results
47 Meritorious Govt. Stipendary seats From a total of 121 Students* *in 2018
??CEET STUDENTS TOPPED THE LIST WITH 9 OUT of first 16 RANKS in Kerala*??

1) Dr. Sreeparvathy - Shalya tantra
2) Dr. Athira - Kaumarabrithya
3) Dr. Krishna priya - Salakya Tantra
4) Dr. Sreenadh - Shalya Tantra
5) Dr. Saritha Sathian - Salakya Tantra
6) Dr. Aparna Dileep - Kaumarabrithya
7) Dr. Sreelatha - Shalya Tantra
8) Dr. Reshmi M -Salakya Tantra
9)Dr. Deenadayal - Salakya Tantra
10)Dr. Israa - Panchakarma
11)Dr. Priyanka - Prasooti tantra
12)Dr. Aswani - Shalya Tantra
13)Dr. Lekshmi - Kayachikitsa
14)Dr. Devi - Kaumarabrithya
15)Dr. Sneha Thomas- Swasthavritta
16)Dr. Remya - Panchakarma
17)Dr. Deepthi - Swasthavritta
18)Dr. Reshmi - Shalya Tantra
19)Dr. Ann Ambitia- Roga Nidana
20)Dr. Jinu - Rachana Sareera
21)Dr. Malavika - Kayachikitsa
22)Dr. Amrutha CR- RasaBhaishajya
23)Dr Amrutha K- opted out
24)Dr.Maragathavally- opted out
25)Dr. Shaniba - Swasthavritta
26)Dr. Aswathy - Dravya Guna
27)Dr. Lincy - Salakya Tantra
28)Dr. Ammu k Sasi- Prasoothi Tantra
29)Dr. Dhanya - Shalya tantra
30)Dr. Anagha - Panchakarma
31)Dr. Surabhi - Shalya Tantra
32)Dr. Aleena - Dravya Guna
33)Dr. Saranya Syam- RogaNidana
34)Dr. Adarsh - Samhitha siddhanta
35)Dr. Aparna - RasaBhaishajya
36)Dr. Ardra- DravyaGuna
37)Dr. Sajeena - RasaBhaishajya
38)Dr. Aashika - Opted out
39)Dr. Deepika - RasaBhaishajya
40)Dr. Divya - Opted out
41)Dr. Akhila- Dravya Guna
42)Dr.Athira - Samhitha siddhanta
43)Dr. Vishnu Priya- Swasthavritta
44)Dr. Remya - RasaBhaishajya
45)Dr.Aiswarya - Shalya Tantra
46)Dr. Athira MS - Kayachikitsa
47)Dr. Rabith - Dravya Guna
Congrats to all CEET students who secured *Non stipendary Govt. seats* in Various colleges throughout India (Detailed list will be published soon )